Napa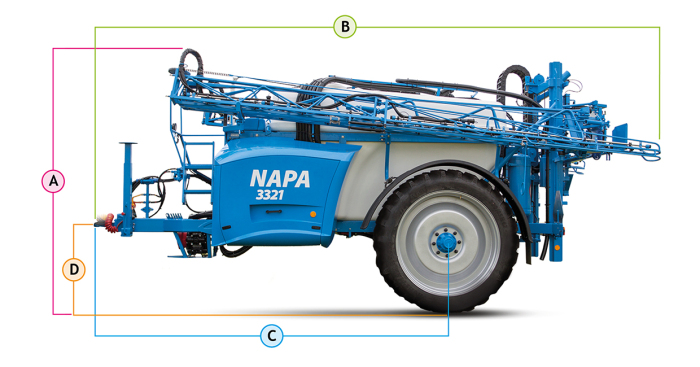 Dimensions
| | | | | | |
| --- | --- | --- | --- | --- | --- |
| Type | A | B | C | D | E |
| NAPA 18 | 3000 | 6000 | 4150 | 1000 | 2600 |
| NAPA 21 | 3100 | 6000 | 4150 | 1000 | 2600 |
| NAPA 24 | 3500 | 6800 | 4150 | 1000 | 2800 |
| NAPA 28 | 3500 | 6800 | 4150 | 1000 | 2800 |
| NAPA 30 | 3500 | 6800 | 4150 | 1000 | 2800 |
E Indicated width of the sprayer
Weight
| | | |
| --- | --- | --- |
| Type | Empty (kg) | Full (kg |
| NAPA 3300 18-21 | 2500 | 6900 |
| NAPA 3300 28-30 | 2950 | 7350 |
| NAPA 3900 18-21 | 3100 | 7500 |
| NAPA 3900 28-30 | 3550 | 7950 |
Booms and tank
fiberrglass Tank / Pe Tank
| | |
| --- | --- |
|    Work. width (m) |    Content (l) |
| 15 - 30 | 3300 |
| 15 -30 | 3900 |
Description
Chassis / Axle
upper hinging, towing eye Ø 40 mm
unsprung extendable axle ADR 9,3 t
wheels 300/95 R46 151 A8
Pumps / Filling
homokinetic joint drive
pump AR 250
outside filling and suction 2"
Water / Tank
polythene main tank without breakwaters 3300 l
pneumatic spraying regulation
internal flushing of the tank
pressured mixing and overflow mixing
Comfort Fill 60 l induction hopper
clean water tank 370 l
watermark
Computer / Electronics
Boom / Distribution
4 - 6 sections
boom with active tilting
potentiometer
full suspension of boom
stainless distribution
in boom Ø 20 mm with
triple nozzle holders
50 cm apart
Others
hydraulics controlled from the tractor by two hydraulic circuits
lightning for road use
NAPA with 3300 and 3900 l tanks is the most common sprayer on a medium sized farm but also in a smaller agricultural company. The smaller tank usually requires bringing water to the field all year round. When the fields are too rugged, it is usually not possible to use too wide boom width. The customer then therefore prefers narrower tyres so damage caused by driving in the field is limited. Because of lower load it is necessary to have a smaller tank. On the other side, NAPA is shorter than MAMUT and is easier to manoeuvre in headland.
Are you interested in this machine? Contact your dealer.
You can also assemble this machine yourself in our configurator.