Gekon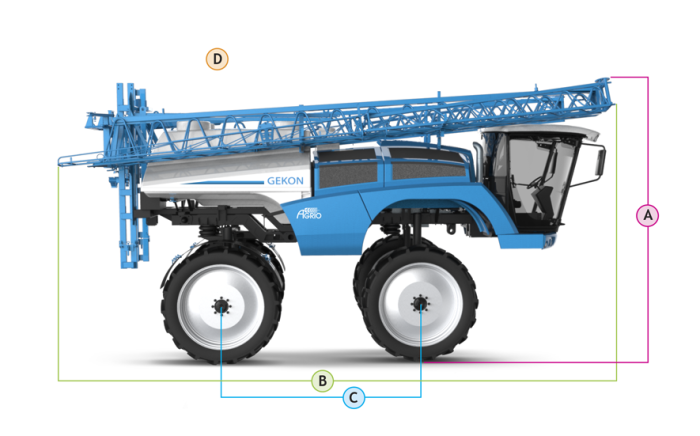 Dimensions
| | | | | |
| --- | --- | --- | --- | --- |
| Range (m) | A | B | C | D |
| 24 - 36 | 3700 - 4000 | 9000 | 3850 | 2850 |
D - Indicated width of the sprayer
The dimensions shown may vary depending on the equipment selected.
Booms and tank
| | |
| --- | --- |
| Work. width (m) | Content (l) |
| 18 - 36 | 3000 - 5000 |
Wheels
380/90 R46 172 A8/172 D
Description
Cabin
Chassis
FPT engine with 151 kW output, emission standard Stage V
hydraulic pump Poclain Hydraulics
hydraulic engines Poclain Hydraulics
integrated brakes
hydraulic differential lock
pneumatic suspension of front and back axle
steering of both axles, crab mode,
3 gears (field mode)
5 gears (road mode)
fuel tank volume 280 l
wheels 380/90 R46 172 A8/172 D
Pumps / Filling
piston-membrane pump 2 x AR 185 powered by hydraulics from the chassis
outside filling and suction 2"

Water / Tank
fibre glass tank with waterbreaks 3000 l
pneumatic spraying regulation
internal flushing of the tank
pressured mixing and overflow mixing
hydraulically folded PE 60 l induction hopper
clean water tank 300 l
electronic watermark TANK-Control
Computer / Electronics
ME computer without terminal

Boom / Distribution
6 - 8 sections
Topline controls - remote control of work functions of the sprayer
full suspension of boom
boom with active tilting and potentiometer
stainless distribution in the boom Ø 20 mm with triple nozzle holders 50 cm apart
Transport speed 50 km/h
Gekon variant with variable ground clearance
Ground clearance 130 - 180 cm

Tank 3000 - 4000 l
Controls
road and working mode
automatic transmission in both modes
maximum transport speed up to 50 km/h
speed control by joystick or pedal
cruise control
terminal for display and control of drive, steering and engine functions
(temperature, revolution, oil/fuel level, error messages, choice of driving mode, etc….)
Steering
modern system of wheel steering
3 modes: front axle (road mode)/ front-back axle/ crab mode
steering with geometry correction while extended axle (track 2,25 - 3 m)
steering with correction of internal leakage of hydraulic system
Engine
engine FPT 6cylinder
volume 6700 cm3
complies to emission class Stage V
engine output 151 kV
torque 940 Nm / 1500 pm
Hydrostatic drive
new hydro engines PH with integrated brakes
Boosted Breaking system
(braking without increasing engine revolution)
Off Road valves for maximum drive through terrain
possibility for emergency release of the brakes in case of defect
gradability up to 27%
ECODRIVE - optimal revolution of the engine according to load = lower consumption
fully equipped comfort cabin CLAAS
ergonomic handling
CLAAS joystick
comfortable heated seat with air extraction (the highest comfort)
air conditioned cabin
special defaming of the cabin
filtration category 4 (highest level of protection)
maximum view of all sides
refrigerator
car radio
camera to the front wheel and to the rear of the machine
pneumatically handled steps
Self-propeller as the system carrier may be equipped with various extensions
Ground clearance fixed 130 cm, variable 130 – 190 cm
Fixed track width minimum 200 cm, maximum 260 cm
Hydraulically extensible track width 225 – 300 cm
The occurrence of corn borer and western corn rootworm in some areas is spreading and therefore our company has decided to comply with our customers' requirements and to widen our range of self-propelled sprayers with a new type. New self-propelled sprayer GEKON with hydraulically adjustable ground clearance from 130 cm to 180 cm and tank of 3000 - 5000 l will have a CLAAS cabin. This cabin has the highest protection level (Cat. 4) - overpressure chemical gas filtration, better noise elimination, ergonomic steering wheel, better suspension of all-leather seat with air extraction or "more comfortable" distribution of air-conditioned air. The new self-propelled sprayer will have individual suspension for each wheel to reach maximum comfort of the driver.


Are you interested in this machine? Contact your dealer.
You can also assemble this machine yourself in our configurator.