Gigant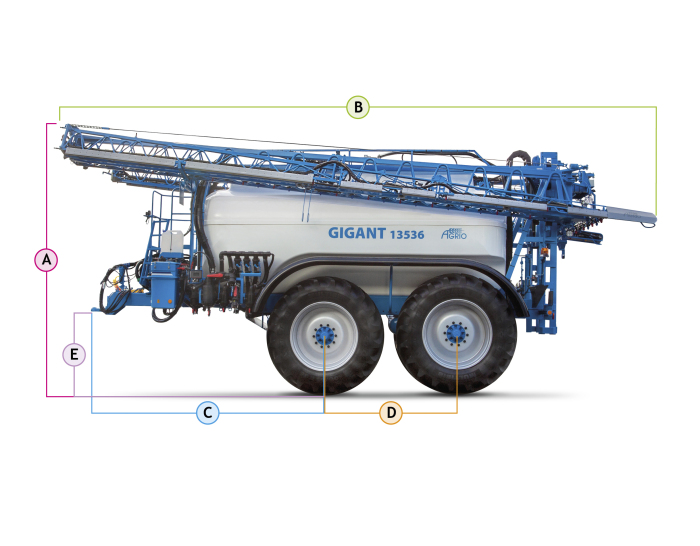 Dimensions
| | | | | | | |
| --- | --- | --- | --- | --- | --- | --- |
| Type | A | B | C | D | E | F |
| GIGANT 30 | 3990 | 9100 | 4100 | 2100 | 1220 | 2850 |
F Indicated width of the sprayer
Size A depends on the size of the booms
Size B depends on the size of the booms
Weight
| | | |
| --- | --- | --- |
| Typ | Full (kg) | Empty (kg) |
| GIGANT 11000 | 6000 | 16900 |
| GIGANT 12500 | 6450 | 19900 |
| GIGANT 13500 | 7000 | 22000 |
Booms and tank
| | |
| --- | --- |
| Working width (m) | Contents (l) |
| 24 - 36 | 11000 - 13500 |
Description
Chassis / Axles
upper hinge (95 - 100 cm), ball coupling K80
air suspended tandem steerable axle
track width 225 cm
wheels 520/85 R38 170 A8
Pumps / Filling
pump AR 280 (up to 30 m) / pump 2x AR185 (over 30 m)
outside filling and suction 2"
Water / Tank
fibre glass tank with breakwaters 13500 l
pneumatic spraying regulation
internal flushing of the tank
pressured mixing and overflow mixing
Comfort Fill 60 l induction hopper
clean water tank 900 l
watermark
Computer / Electronics    
ME computer (without terminal)
Boom / Distributions
6 - 8 sections
boom with active tilting
potentiometer
full suspension of boom
stainless distribution in the boom Ø 20 mm with triple nozzle holders 50 cm apart
Others
hydraulics controlled from the tractor by three hydraulic circuits
lightning for road use
GIGANT with 11 000 - 13 500 l tank and a tandem axle is the one of biggest trailed sprayers on the market. It proves its advantages easily with maximum boom width in very long fields. Because of extremely large tank, the amount of work interruptions to fill the sprayer with water or to bring water to the sprayer in a tank are minimised. Therefore the costs are lowered as well.
Are you interested in this machine? Contact your dealer.
You can also assemble this machine yourself in our configurator.