Alka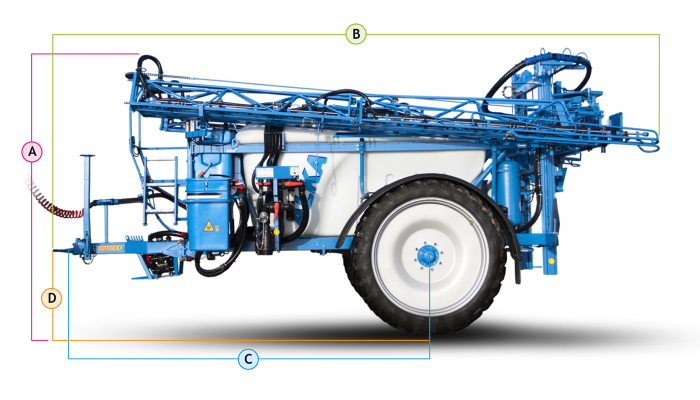 Dimensions
| | | | | | |
| --- | --- | --- | --- | --- | --- |
| Type | A | B | C | D | E |
| Alka 18 | 2900 | 2800 | 3900 | 1000 | 2600 |
| Alka 21 | 2900 | 2500 | 3900 | 1000 | 2600 |
E Indicated width of the sprayer
Weight
| | | |
| --- | --- | --- |
| Type | Empty (kg) | Full (kg) |
| Alka 2500 | 2200 | 5300 |
| Alka 3000 | 2200 | 5800 |
Booms and tank
Fiverberglass Tank
| | |
| --- | --- |
| Work. width (m)   |    Content (l)   |
| 15 - 21 | 3000 |
PE
| | |
| --- | --- |
| Work. width (m)    |    Content (l)   |
| 15 - 21 | 2500 |
| 15 - 21 | 3000 |
Description
Chassis / Axles
upper hinging, towing eye Ø 40 mm
unsprung extendable axle ADR 6,8 t
wheels 340/85 R38 151 A8
Pumps / Filling
homokinetic joint drive
pump AR 185
Water / Tank
polythene main tank without breakwaters 2500 l
pneumatic spraying regulation
internal flushing of the tank
pressured mixing and overflow mixing
Comfort Fill 60 l induction hopper
clean water tank 370 l
watermark
Boom / Distribution
4 sections
boom without active tilting
stainless distribution in boom Ø 20 mm with triple nozzle holders 50 cm apart
Computer / Electronics
Others
hydraulics controlled from the tractor by two hydraulic circuits
lightning for road use
ALKA with 2500 and 3000 l tank is the smallest of trailed sprayers of Agrio company. Due to its favourable price, it is an entry product for the smallest farmers who have used a mounted sprayer up until this time. The quality of the machine is high, part base is
identical to all other types. Therefore its durability is long which is positive for future sale of a used sprayer.
Are you interested in this machine? Contact your dealer.
You can also assemble this machine yourself in our configurator.